This page provides you with practical information about our practice. It includes descriptions of our office location, including a map and directions, hours, appointment scheduling, insurance acceptance, and billing policies.
Akron, OH Family Dentist
Arthur S. Benson, D.D.S.
3618 W. Market St. Suite 101
Akron , OH 44333
(330) 666-8757

Call For Pricing Options
Office Hours

Monday:
8:00 AM - 5:00 PM
Tuesday:
8:00 AM - 5:00 PM
Wednesday:
8:00 AM - 5:00 PM
Thursday:
8:00 AM - 5:00 PM
Friday:
9:00 AM - 2:00 PM
Phone Calls Only
Saturday:
Closed
Sunday:
Closed
Click here for door to door driving directions
Appointments

At Dr. Benson's office, we will schedule your appointment as promptly as possible. If you have pain or an emergency situation, every attempt will be made to see you that day.
We also make staying on schedule a priority at our office. Due to the fact that Dr. Benson provides many types of dental services, various circumstances may lengthen the time allocated for a procedure. Emergency cases can also arise and cause delays. We appreciate your understanding and patience.
Please call (330) 666-8757 with any questions or to schedule an appointment.
Insurance and Billing
We accept all traditional insurance plans (plans that allow you the freedom of choice), so please contact our office to verify acceptance of your plan. Most dental insurance companies pay 100% of diagnostic and preventive care and a percentage of the fee for most other treatment, after meeting a deductible amount. To help you get the full measure of your dental insurance, we will normally submit the treatment performed and wait until they pay before we bill you for the difference. When more extensive procedures are performed, such as crowns, veneers, or bridges, we request that you pay your estimated portion of the fee at the time of service. After your insurance has paid its portion, any difference will either be billed to you or returned as a refund.
Payment Options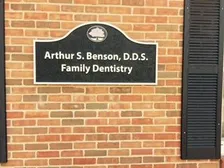 We accept checks, cash, or credit cards ( MasterCard, Visa, Discover, and American Express). Our goal is to deliver quality dental care at an affordable price, so we request that payment is made at the time of service unless other financial arrangements are made in advance. If you have any questions regarding your account, please do not hesitate to call us at (330) 666-8757 . Very often a simple phone call can clear up any misunderstandings.
Please remember you are fully responsible for all fees charged by our office regardless of your insurance coverage.
Financing Options

CareCredit is here to help you pay for treatments and procedures your insurance doesn't cover. We offer No Interest* financing or low minimum monthly payment options so you can get what you want when you want it. You can even use CareCredit for your family and favorite pet.
With three simple steps, including an instant approval process, it's easy to apply for CareCredit. After you're approved, you're free to use CareCredit for the services you choose including LASIK, veterinary, dentistry, cosmetic dentistry, hearing aids, and more.
CareCredit is endorsed by some of the most credible organizations specific to each healthcare profession we support. And CareCredit is a GE Money Company, so you know you can count on us. For over 20 years, we've been helping over five million cardholders get the healthcare treatments they want and need
Now you don't have to worry about saving up for the procedures you want and need. With CareCredit, the decision's in your hands to get what you want, when you want it. For more information or to apply online, visit carecredit.com .